Sharp Copiers For Sale and Lease Dealers: Compare Quote
Get up to five free quotes from Sharp Copiers for sale and lease quotes.
Note: It is not guaranteed that you will connect to Sharp Copier lease or sale dealers.
Because it depends on many factors, such as location and our limited number of part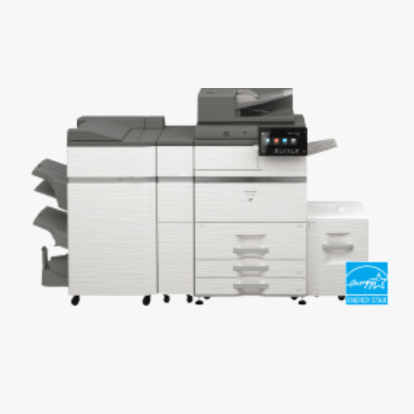 Sharp Copiers for Sale offer businesses a reliable solution for their printing needs. Many companies opt for sharp copiers lease options to maintain flexibility and manage costs.
When considering a purchase or lease, it's essential to consult a reputable Sharp Copiers dealer who can provide expert advice on the best model to suit your requirements.
Comparing quotes from various dealers ensures that you get the best value for your investment. With the right choice, your office can enjoy efficient and high-quality printing for years to come.
Sharp Copiers Dealers
To find the copier dealer near your area to get sales or lease quotes, fill out the form, and you will be connected with up to dealer to compare prices.
FineStar Imaging LLC
FineStar Imaging, located at 2171 Jericho Turnpike, Suite 230 in Commack, NY 11725, has been serving businesses for nearly two decades. They focus on areas like New York City and Long Island. If you're looking for a variety of equipment brands, they've got you covered! They offer brands like Brother, Canon, Dell, and even Sharp. In fact, their list includes 16 different trusted brands, such as Toshiba and Xerox.
One of the unique things about FineStar Imaging is their eco-friendly approach. Instead of throwing away empty toner cartridges, they acquired a company called Toner Retrieve. This move helps in reducing waste, as these cartridges don't end up in landfills. Plus, companies that give their empty cartridges to FineStar get paid! That's a win-win situation.
Another interesting fact is their merger with PCF Services. This merger allowed them to both make and maintain high-quality toner cartridges. They also have a top-notch service and tech department, ensuring that their products and services are always up to the mark. If you ever need to reach out to them, just dial 800-458-6637. They also have a main office in Astoria, New York. Whether it's repair services or premium office printers, FineStar Imaging aims to provide the best.
2.Dean Office Solutions
Dean Office Solutions, located in Morristown, NJ, stands out as a top Sharp copier dealer. They rank third in the region and sixth in the nation for their Sharp products. The founder, John Egerter, brings over 25 years of experience in the office products field. They serve many places in New Jersey and are known for their quick same-day customer service.
If you have a lease with them, they offer a free check-up to make sure it's the best deal for you. They sell and service several brands, including Sharp, Copystar Kyocera, Konica Minolta, and Canon. One of the best parts about them is their commitment to doing business the right way.
They believe in treating their customers well and always acting ethically. They also have trained crews that work all over New Jersey. If you're looking for a reliable copier dealer, Dean Office Solutions might be the perfect fit for you.
3.LDI Connect
LDI Connect has been around for over 20 years, offering top-notch office technology solutions. Located at 50 Jericho Quadrangle in Jericho, NY, they serve a vast area. This includes New York, New Jersey, Connecticut, Southern California, and even places like Puerto Rico, Canada, and the UK.
In total, they've helped more than 6,000 clients! They're known for their strong partnerships with some of the world's best manufacturers. This means they can give you the best equipment and services out there.
People in the communities they serve really respect them, and they've even received awards for their work. They offer many services like print, document management, and cloud services. Plus, they have a special Learning Center where you can find answers to common questions. If you're part of a community, you might have seen them around.
They love to support and build strong ties in the places they work. Many clients, like One Hundred Black Men and HLZ Architects & Engineers, trust LDI Connect and speak highly of them.
4.Specialty Business Solutions
Specialty Business Solutions, located at 260 West 35th Street in New York, has been serving the Tri-State area for over 45 years. Founded in 1975 by Harvey Smith, an IBM typewriter technician, the company has grown to become a Premier Sharp Platinum Partner in the tristate area. They boast an impressive 98.4% client retention rate, showing that their customers really trust them.
They offer a range of solutions like Fleet Management, Print Management Software, and Document Storage. They also provide Smartboards for classrooms and meeting rooms, as well as Digital Signage for offices. If you're into tech, you'll be interested to know they work with big names like Sharp Electronics Corporation and Foxconn.
They even have voice-first interaction at their MFPs using Amazon's Alexa. If you need to reach out, their phone number is (212) 587-9600, and their email is info@specialtybusiness.com. They highlight products like Dynabook Laptops and award-winning Kodak Alaris Scanners.
5.GoodSuite
GoodSuite started its journey in 1998, and over the past 25 years, it has grown a lot. Originally known as Copier Headquarters, they now offer many services like Managed Print, Cyber Security, and even VoIP Phone Systems. They have a special mission: to give top-notch technology products and super-fast service. They believe in the idea that "living is giving," which means they care about helping others.
In fact, they've donated almost 1,500 bears to a program called Operation Gratitude's Battalion Buddy since 2017. That's a lot of bears! GoodSuite also lets its employees take two paid days off each year to volunteer and help out in the community. If you live in California, especially in places like Ventura county or LA county, you're in luck because they serve those areas.
They sell products like HP Printers and even have special displays that you can touch and interact with. During the COVID-19 outbreak, they made sure to share important information to keep everyone safe. GoodSuite focuses on building strong relationships with its customers, making sure they get the best service.
6.DEX Imaging
DEX Imaging, founded in 2002, aims to be the top independent imaging dealer in the nation. They serve locations all over the United States and are known for their high-quality printers, copiers, and document imaging technology. Some of the top brands they work with include Konica Minolta, Kyocera, Canon, and HP. What sets DEX Imaging apart is their commitment to the community.
They donate a whopping 1/3 of their profits to charities, schools, and sports programs. Their headquarters is at 5109 W Lemon Street, Tampa FL 33609. Dan Doyle, the founder and chairman, has a rich history in the imaging industry. His son, Dan Doyle Jr, is the CEO and continues the company's mission.
They also focus a lot on the environment. They make their toner cartridges in a way that's friendly to our planet. If you're thinking about where to get your office equipment, DEX Imaging offers great value compared to other options. They also share helpful articles on their website about printers and related topics.
7.Platinum Copier Solutions
Platinum Copier Solutions specializes in providing Sharp office equipment. They have a strong presence in places like Beaumont, Galveston, Houston, and the Dallas – Fort Worth area. One impressive fact about them is their 60 years of experience in selling and servicing office equipment.
They understand that businesses have different needs. So, they offer options to buy, lease, or even rent copiers. This flexibility makes it easy for businesses to choose what works best for them. They're not just about selling copiers. They're also dedicated to giving top-notch customer service and ongoing support for Sharp copiers.
They've helped many business owners get their work done in an easy and hassle-free way. If you ever need help, they have a special support service just for Sharp copiers. They believe in offering solutions that fit each business perfectly.